3D Printing For The Jewellery Industry
Jewelry Casting with 100% Wax 3D Printed Patterns
INCREASE CREATIVITY, INTRICACY, SPEED, AND FLEXIBILITY
Without changing the fundamentals of lost wax casting for jewelry production, 3D Systems has introduced an innovation that makes it possible to do more. Not only more creativity and intricacy, but also more speed and flexibility.
3D Systems' pure wax 3D printer produces highly accurate jewelry casting patterns with 100% ash burnout for perfect quality and increased efficiency. This application brief discusses the components of 3D Systems' wax 3D printing solution and how they fit within the jewelry production workflow.
Download the application brief to learn:
Design tips for 3D printing
File preparation tools and uses
Critical success factors for repeatable, high quality casting patterns
BONUS GUIDES:
Jewelry Wax Pattern MultiJet 3D Printing
The ProJet MJP 2500W Plus enables high throughput production of pure wax jewelry patterns for lost wax casting
Jewelry Manufacturing Solutions
Maximize Creativity, Quality, and Reliability with Digital Design and Manufacturing Workflows, Including Leading Solutions in 100% Wax 3D Printing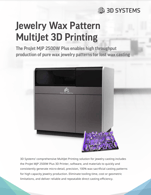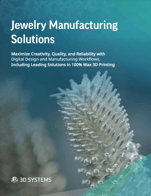 Get Access To These Guides!
Fill our the form below for these quick guides